Introduction
Customers always want to know if they can rely on you to hear them and meet their needs when something unexpected occurs. Your ability to adapt to changing conditions and assist customers in navigating new challenges will most likely define your relationship with them in the future. If you do it correctly, you may have a customer for life; if you do it incorrectly, you may lose them forever. How confident are you that your service will keep your business running in uncertain times? See how to evaluate your customer service in this brief so you can identify and address broken processes and gaps. Make certain you can do what is required to ramp up quickly and meet expectations to keep your customers satisfied. It's the most effective way to increase customer loyalty and lifetime value while keeping your business on track.
Challenges faced
Many organizations are discovering that their service operations are not as resilient as they had wanted. Assisting and satisfying customers with ever-changing demands and expectations is difficult, especially when contact volumes increase, employees are remote or unavailable, and processes rely on manual steps. How can you reduce these risks?
Solution
You can begin by looking at service in a comprehensive and integrated way, from an organizational standpoint, to identify broken or missing ServiceNow digital workflows. Typically, when businesses think about and discuss customer service, they focus on the contact center and the channels through which customers interact with agents. But this is only the beginning of the engagement. Many of the high-impact problems that customers are experiencing are not resolved by the contact center. The rest of the company does. To meet today's customer expectations and provide an optimal service experience, you must examine all of your organization's people, processes, and tools. You must implement intelligent digital workflows that connect your front office to your middle and back offices.
Good Service Delivery covers these three aspects:-
Customer Engagement
Customer Operations
Field Service
Examining each and comprehending their interactions and interdependence will assist you in identifying broken processes and service gaps that you may or may not have been aware of. Once identified, you can prioritize efforts and create the digital workflows required to address any deficiencies, ensuring that you are ready for whatever the future may hold.
ServiceNow Digital Workflows: Customer Workflows
ServiceNow Customer Workflows can assist you in increasing capacity through automated self-service, organizing resilient operations to deal with unforeseen events, and managing location-based work efficiently and safely. Solve your customer engagement, customer operations, and field service issues to ensure that your customer service is observable even when the rest of the world is not.
Customer Engagement
Increase capacity through automated self-service. Reduce the burden on your agents by assisting your customers in getting what they need, when they need it, and in a way that is convenient for them. An AI-powered chatbot can assist customers in completing requests and receiving responses. Increase customer self-service usage by offering automated solutions to common requests via a service catalog and workflow. Allow agents to resolve customer issues from an intelligent workspace when escalating to agent-assisted service.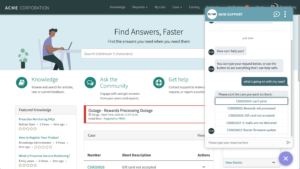 Customer Operations
Prepare resilient operations for unforeseen events. To complete customer requests and resolve issues, break down silos and automate processes across teams. Prevent downtime by proactively monitoring the health of your customers' products and services to identify potential issues and, if necessary, notify affected customers.
Field Service
Send the right people and equipment to get the job done right the first time. The assignment process is automated with dynamic scheduling, which is based on skill, travel time, priority, and availability. An intuitive mobile application allows field service technicians to quickly view and record information. Maximize customer uptime by resolving issues before they become apparent through insight into potential failure.

Conclusion
Every organization has both strengths and weaknesses. Identifying where you have gaps in your service delivery will assist you in determining where to spend time and resources to make improvements.
To Discover more: Read our latest Blogs: https://aelumconsulting.com/popular-blogs/
For ServiceNow consulting and implementation, Visit Our Website & Connect With Best ServiceNow Experts: https://aelumconsulting.com/servicenow/
Thanks For Reading
Read More on Aelum Blogs
Author: Rati Kumari Jha
Designation: Technical Content Writer