Utah Release is one of the things that most organizations and developers were waiting for in 2023. It includes updates to products, applications, & elements. Are you looking for information on the exciting features of the ServiceNow Utah release?
In this blog, we have covered and shared all the features and aspects you can get in the latest release of ServiceNow.
Customer Service Management
Omnichannel Callback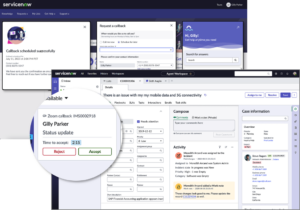 Customers can request a callback from available agents via engagement messenger or a portal.
You can get the option to schedule a phone or Zoom callback.
Users can add context to route the callback to the best available agent.
Google Business Messages
Customers can initiate conversations via Google entry points like search, maps, and websites.
You can use Google Business Messages to send agent and system-initiated messages to customers proactively.
Choose improved messaging capabilities like Rich Cards, Carousels, and Quick Replies to create engaging conversational experiences.
Real-time voice transcription with Amazon Connect
Use Amazon Connect integration to capture and transcribe conversations in real-time automatically.
Add conversation transcripts with customer data and details in the agent workspace.
The agents and managers can access conversation transcript logs to improve service and training gaps.
Install base foundation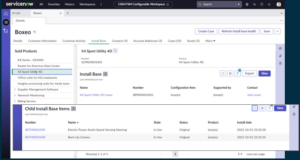 Associate child and parent install base items.
You can track foundational install base data in a single view, including location, install date, status, and services.
Install base admins can authorize internal or 3rd party users to manage items.
Service Definitions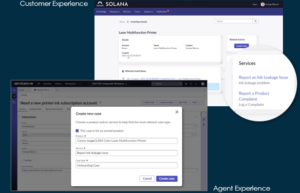 Admins can associate relevant services and case types with products.
You can showcase customers using relevant service lists based on their own products.
Filter case type selection based on the customer product model, context, or suitable service.
Field Service Management
Task Bundling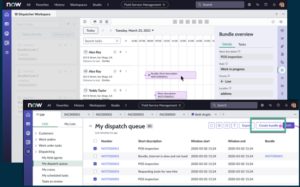 Groups similar work order tasks in one bundle to enhance dispatcher efficiency.
You can reduce travel costs, time, and carbon footprint, increasing service margins.
Control work order task backlogs while increasing daily workload and technician productivity.
Equipment Scheduling
Include specialized equipment with granular scheduling needs support.
You can reduce delays from waiting on needed equipment and speed time to task completion.
Use check-out & check-in procedures to minimize lost, misplaced, or stolen equipment.
Intra-day Schedule Automation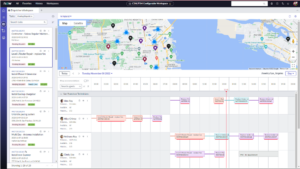 Automatic work rescheduling & minimal guesswork for the dispatcher.
You can reschedule the work appropriately according to the contract to reduce penalties
Keep technicians & customers informed of changes and close schedule gaps to deliver a better experience.
Process Optimization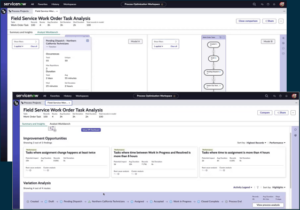 Uncover hidden delays and bottlenecks, increasing the visibility of end-to-end processes.
You can connect KPI trends to underlying processes with enhanced traceability.
Identify the root cause of process inefficiencies & implement corrective actions to reduce costs.
Workforce Optimization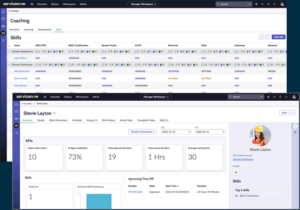 Improve organizational dispatch and scheduling efficiency.
You can enhance shifts and time-off request management.
Define & promote resource coaching and team improvement initiatives.
IT Service Management
Enhanced Service Operations Workspace
Include the change lifecycle experience with dynamic pages for all states.
With simplified change scheduling, you can access all process aspects in a single, intuitive view.
Use Microsoft Endpoint Manager to investigate incidents in context with metrics and data.
Enhanced Workforce Optimization
Agents can self-assign learning paths and courses based on their preferences.
Machine learning analyses on past work for optimal agent training.
You can keep momentum and measure success with learning progress visible in your workspace.
Digital Portfolio Management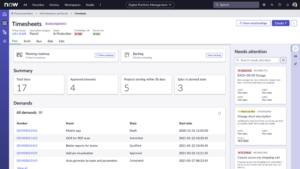 Integrate DevOps flow metrics for deeper operational insight to better inform business-critical decision-making.
Simplified experience and redesigned interface to streamline management.
You can implement quickly with popular KPI groups, easily available in your portfolio.
Success Dashboard Enhancements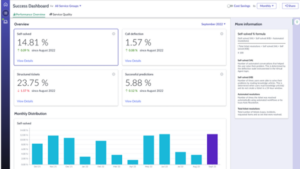 Measure ServiceNow products implementation success outside of ITSM.
You can analyze performance with added context from peer comparisons.
Identify improvement areas via automation discovery to enhance value realization.
IT Operations Management (ITOM)
Cloud Operations Workspace enhancements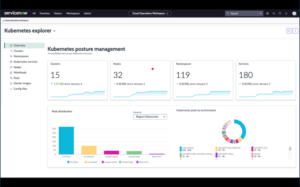 Explore Kubernetes and other resources from the Cloud Operations Workspace.
You can visualize cloud discovery, resolve errors, and track progress.
Quickly integrate plug-and-play connectors with AWS, Azure, and other cloud data.
Automated ML service mapping suggestions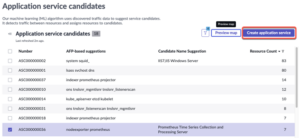 Fast service mapping with higher fidelity using less manual effort.
No need entry points! You can just start mapping with less expertise and preparation.
Just a few clicks to create application services prescribed by ML
Instantly manage new containers with cloud-native operations.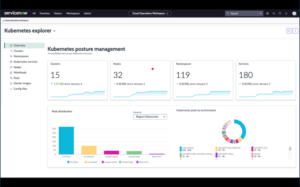 To deploy containers, you can get built-in visibility and Health for Cloud-native operations (CNO) scripts.
CNO containers automatically scale discovery resources to meet demands.
Enhanced deployment steps for troubleshooting in Utah
Software Asset Management
SAM Success Value Builder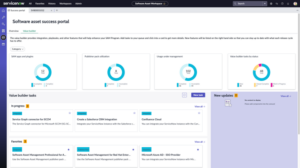 Drive continual progress toward success goals with insights into underutilized ServiceNow SAM capabilities.
Roadmap a success plan with a holistic view into available SAM integrations, playbooks, apps, plugins, and software not under management
You can use Software Asset Workspace to create, assign, and track new value builder tasks through completion.
Containerized Software Licensing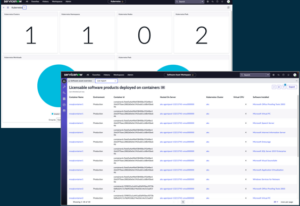 Discover container infrastructure and licensable software installed on Docker and Kubernetes, on-premise, or on the cloud.
You can determine license compliance positions for Microsoft SQL Server and Microsoft Windows Server products deployed on containers.
Actively monitor container utilization and auto-create remediation options when non-compliant.
Software contracts renewal calendar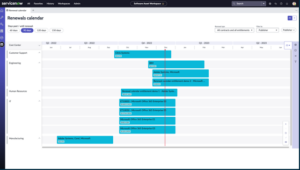 Gain visibility from a single calendar view into all software contracts and entitlements up for renewal and set to expire.
You can drill into contract and entitlement details to better plan and manage SaaS and on-prem software renewals.
Automate software and contract renewals across all stages of the purchasing process with contract and renewal management
Configuration Management Database (CMDB)
CMDB 360 view to harmonize multiple sources.
Identify missing records quickly from key sources and address coverage gaps.
You can build trust & increase efficiency by leveraging overlapping data points.
Publish out-of-box insights about cloud versus on-prem infrastructure.
Identity and reconcile core business data

Process non-CMDB tables, leveraging the Identity and Reconciliation Engine (IRE).
You can combine data management best practices and policies.
Automate quality improvement in location, user, and related core business data.
Security Operations
Security Incident Response Workspace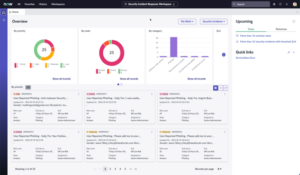 Designed with Tier 1 and 2 security analysts in mind and manage incidents and workload with all new analyst dashboards and investigation canvas.
You can move through an investigation efficiently, leveraging playbooks and recommendations.
Out-of-the-box integrations to orchestrate actions directly
Vulnerability Response Workspace for Cloud and App
A single workspace with a modern user experience to manage vulnerabilities and misconfigurations across assets
A single view to create watch topics, remediation efforts, and tasks for all vulnerabilities (hosts, applications, and containers) and misconfigurations
You can schedule the recurring creation of remediation efforts and remediation tasks.
Keep items open in tabs with multi-task across modules.
HR Service Delivery
Workforce Optimization
Better workload balancing to build productivity with visibility into your team's skills, training, and schedules
You can get AI-powered skills and learning recommendations to create learning opportunities.
Historical workload to visualize and validate demand forecast
Manager Hub Enhancements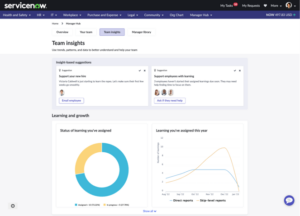 New Team Insights pages to visualize in-depth performance analytics and team trends.
You can use proactive prompts to drive increased engagement and easily suggest actions for your team.
Create content for your team, leveraging out-of-the-box suggestions.
Governance, Risk, and Compliance (Integrated Risk Management)
Operational Resilience Workspace enhancements
Impact enterprise-wide operational resilience, visualizing 360 relationships and applying context to data and assets impacting.
You can get a modern design and configurable workspace, increasing productivity and simplifying navigation.
Common Control management
Create and link common control to multiple entities ​reducing the number of controls to be maintained.
You can reduce the time and cost of control testing, inheriting control testing results of common control, for the primary entity, to all linked entities for risk identification, audit, and compliance purposes.
Issues Management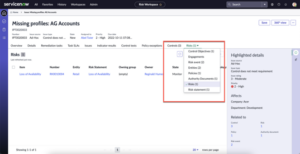 Reduce duplicate issues by creating a single issue that can link to multiple risks, controls, entities, and other objects (see the related list on the issue form).
To simplify audits with fewer issues, you can present a holistic view of the impacted controls, engagements, risk events, and other sources.
Improve risk tracking and analysis, tag an issue to multiple sources of failure (ex. multiple controls).
App Engine
Request management application usage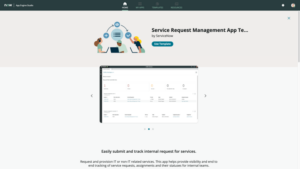 Organizations can receive the highest level of service support quality.
You can provide services your employees need to be productive to do their best work.
Prebuilt AES template to create request-based apps with ease
Restrict app creation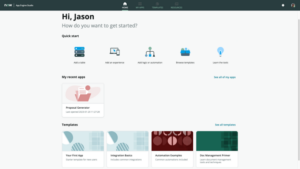 Restrict users from creating new applications from scratch or templates.
Allow users to edit only the accessible applications.
You can view the information in the new App Engine Studio user limited group, leveraging guided setup.
Template feature support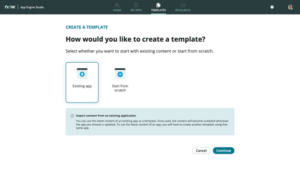 You can experience additional features, such as:
Standard catalog items, categories, and user criteria
Process Automation Designer
Decision tables
Translations
UI pages
Credentials
Data policy
Scheduled import/export
Table Builder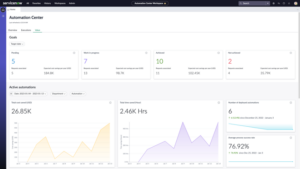 You can create new fields as your need, leveraging existing ones from a table template.
Users can map source fields from their spreadsheet to target fields in their table.
Simplify the initial upload of spreadsheet data to template tables.
Automation Engine
Automation Center enhancements
Track business goals with the new Value Dashboard and get real-time insights into automation ROI across vendors.
Expand automation CIs to integration hub flows to broaden automation coverage.
You can use Integration Hub UiPath spoke to integrate fast with UiPath RPA.
RPA Hub Enhancements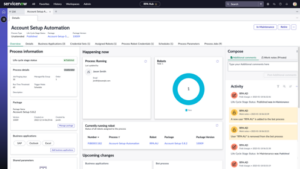 Access RPA Hub on Personal Developer Instances (PDIs) to enable the ServiceNow developer community
You can quickly build an RPA automation flow, recording tasks across multiple applications.
Schedule with Robot Calendar to visualize and coordinate bot process scheduling.
Document Intelligence enhancements
You can get an all-new admin experience to set up, configure, and monitor Document Intelligence solutions.
New AI models and redesigned user interface to extract checkbox data
Improved AI models and user interface to extract data from more complex tables.
Who Can Aelum Consulting Help Me Upgrade My ServiceNow Instance?
Aelum Consulting is a Premier ServiceNow partner that provides consulting, implementation, and support services for ServiceNow customers. Our team of certified ServiceNow experts can help you upgrade your ServiceNow instance without hassle.
Develop a Comprehensive Upgrade Plan: Our team of experienced ServiceNow consultants can help you develop a comprehensive upgrade plan tailored to your business needs. We can assist you in determining the best upgrade strategy for your ServiceNow instance, including reviewing release notes, assessing compatibility with third-party applications, and identifying potential risks.
Well-versed Technical Experts: Our team of ServiceNow experts includes certified developers, administrators, and consultants who are well-versed in the latest ServiceNow features and functionalities. We can help you implement and configure your ServiceNow instance to meet your unique requirements.
Thorough Testing: We provide thorough testing services to ensure your ServiceNow upgrade is successful. Our experts perform various types of testing, including functional, integration, and regression testing, to ensure that your ServiceNow instance is working as expected.
Offer Training and Support: Our experts provide comprehensive training and support services to help your team adopt and use the ServiceNow platform effectively. We offer customized training programs tailored to your business needs, including end-user, administrator, and developer training.
Ongoing Support and Maintenance: Our experts provide ongoing support and maintenance services to ensure your ServiceNow instance is always up-to-date and running smoothly. We offer various support packages to meet your ongoing support needs, including incident, problem, and change management.
So, at Aelum Consulting, we help organizations with the ServiceNow platform, providing end-to-end upgrade services, including planning, implementation, testing, training, and ongoing support and maintenance. They have a team of well-versed ServiceNow experts who can help maximize your ServiceNow investment. You can contact us through our website if you need support with your ServiceNow instance. We will work with you to understand your organizational needs and requirements and provide a customized solution for your business.
Thanks For Reading
Read More on Aelum Blogs
Author: Bhumika Vashist
Designation: Technical Content Writer