Field Service Challenges
As businesses try to set themselves apart from the competition, service quality is becoming more and more critical. That includes scheduling on-site workers like insurance adjusters or home health aides as well as sending technicians to install or repair equipment. Unfortunately, field service technicians and customer service aren't always in sync, which leads to reactive service, multiple service calls, and higher costs.
Your mobile workforce could not be equipped with the necessary knowledge or components for the job without a strong relationship with the client and knowledge of their resources and history. Additionally, poor visibility might result in neglected maintenance and expensive, unforeseen break-fix work. Multiple visits annoy customers, who also feel left out of the loop. 
ServiceNow Solution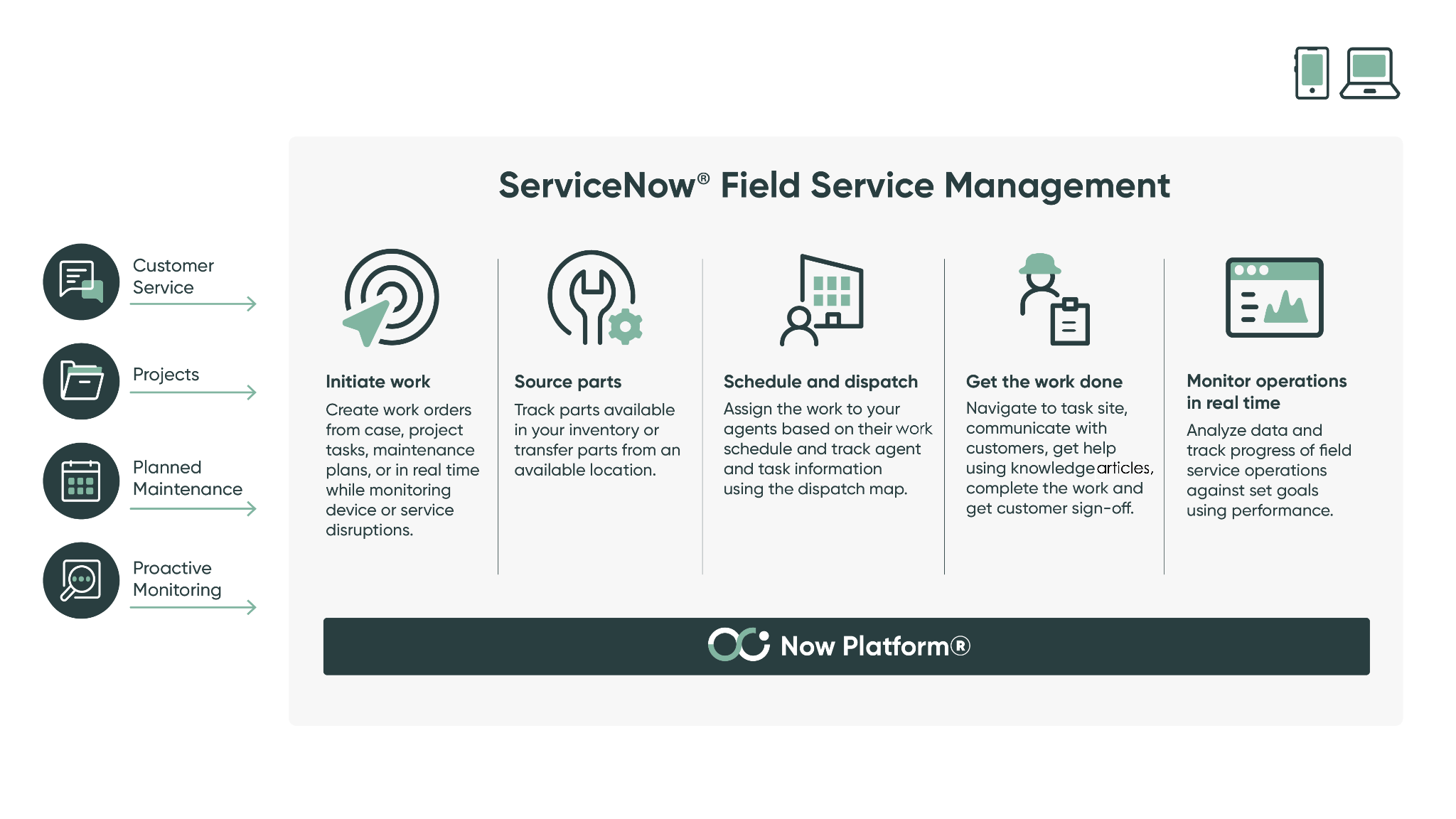 ServiceNow Field Service Management
You can manage site-specific work effectively and safely with the aid of ServiceNow Field Service Management. It connects customer service, the help desk, and field service activities easily with ServiceNow Customer Service Management and ServiceNow IT Service Management and it can also be utilized independently.
With ServiceNow Field Service Management you can:-
Finish the job correctly the first time by assigning the job to the worker who is most suited for it. Their expertise, location, inventory of parts, and availability are taken into account during manual or automated scheduling.
Use preventative maintenance and asset management to address issues before your clients become aware of them.
Increase the productivity of mobile workers to achieve service level agreements with a user-friendly, native mobile app for iOS or Android that contains details on work orders, travel instructions, the locations of parts, knowledge base articles, and safety checklists.
Easily create work orders
To expedite problem-solving, integrate with ServiceNow Connected Operations, Customer Service Management, or IT Service Management.
Provide clients with visibility
Allow clients to book meetings and receive text message updates on the location and arrival time of employees
Gain better insights with reporting and dashboards
Use pre-built reports and dashboards to your specifications to gain real-time insight into parameters like as capacity, usage, customer and geographical demand, and more.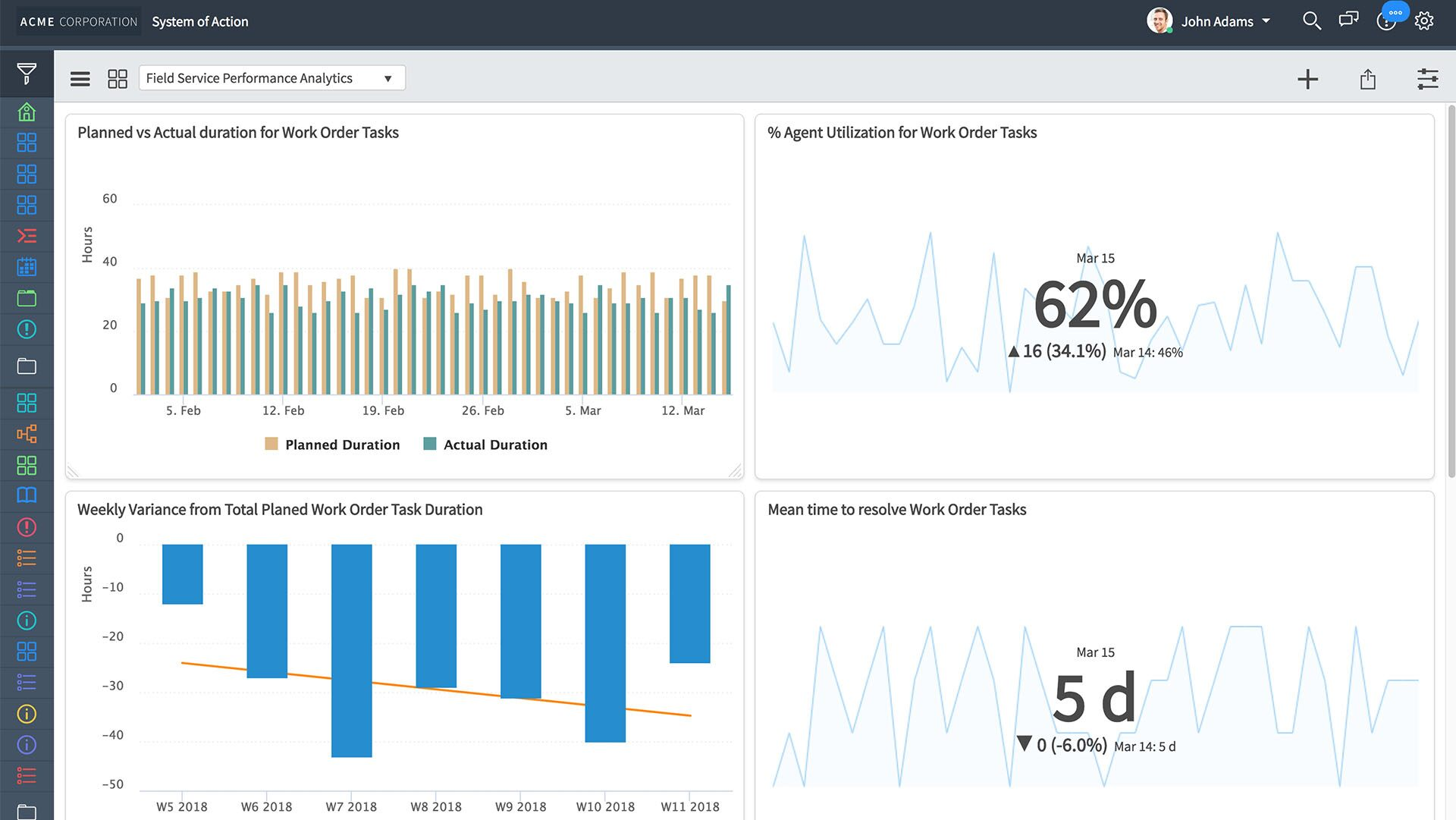 Utilize a mobile interface to streamline fieldwork
With or without an internet connection, accept or reject jobs, monitor travel and work time, use safety questionnaires, access knowledge articles, and collect client signatures acknowledging work completion.
Continual Improvement Management
We Align people, processes, and data to launch and monitor improvements across the organization.
Streamline the handling of parts and inventory
We Utilize ServiceNow Asset Management as a centralized location for inventory management and stock assets.
You can drive value with better field service. With proactive service and a single, integrated system of action, you can improve experiences and lower effort. Encourage communication between field staff, customers, and operations. Increase revenue by automating operations.
To Discover more: Read our latest Blogs: https://aelumconsulting.com/popular-blogs/
For ServiceNow consulting and implementation, Visit Our Website & Connect With Best ServiceNow Experts: https://aelumconsulting.com/servicenow/
Thanks For Reading
Read More on Aelum Blogs
Author: Rati Kumari Jha
Designation: Technical Content Writer