IT Service Management
IT Service Management (ITSM) refers to a group of products that are used to manage and support technical IT services. Technical services are a mix of internal technical services provided to an organization's workers and commercial technical services provided to the business's external clients. How about companies start focusing on Customer Service Management with ITSM implementation.
Customer service management
To serve your customers faster and more effectively, ServiceNow Customer Service Management (CSM) goes beyond traditional customer service solutions. By adopting Service Management principles, CSM changes external customer support. CSM refers to a set of goods that can be utilised by an organization's customer service department to help external customers or stakeholders.
Why ITSM and CSM licenses are required?
Customers who acquire only the CSM licence will be able to use the ITSM implementation products for a limited number of use cases. The accepted use case is to use a Technical Customer Support function to meet customer requests. If the ITSM products are also utilised to meet the demands of employees, the ITSM licence must be purchased.
Combining ITSM and CSM
Both ITSM and CSM products serve distinct purposes, but they are designed to support and enhance each other since they are intended to service organisational activities that are very closely related.
Beginning  with the ITSM Implementation
Internal IT service desks that provide technical support to employees always use ITSM. ITSM has also been used in the past to establish processes that support technical services provided outside of the corporation. To handle their external technical assistance, many customers have relied only on the ITSM suite of solutions. Some of these customers may have used a third-party CRM-based application to manage their customer support activities, and this CRM-based application may have been linked with ServiceNow ITSM. Customers can report incidents and requests directly to the company. In a shared services environment or for MSPs, this is fairly frequent.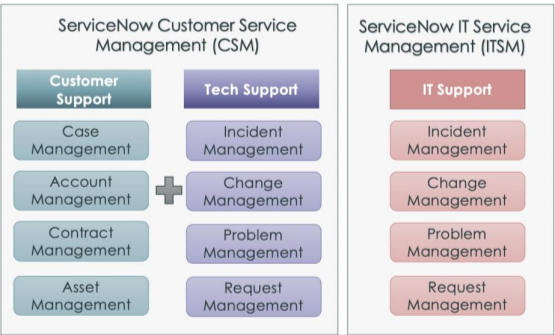 When to adopt CSM
Companies who previously used ITSM to provide technical support can now use CSM to provide both customer and technical support to their clients. CSM is required when technical support services have matured to the point that internal IT support and external technical customer support have been organizationally separated and specific teams have been formed, despite the fact that both are technical support functions. In addition to the separation of technical support, the business has now established a customer service role to manage all external customer relationships rather than allowing direct access to the IT service desk. the operation, whereas IT support is not.
Let's start with CSM
Companies can use CSM to transform their customer service by tracking customers, concerns, products, and entitlements through case management and other associated procedures. Customers might choose to integrate Incident, Problem, Change and Request Management processes later to transform their technical assistance.
When to Introduce ITSM processes?
Once a company's customer support operations have been optimised, ITSM techniques can be used to optimise the technical support function. All of the ITSM processes are nicely integrated with Case Management to give great customer support because the CSM licence includes Incident Management, Change Management, Problem Management, Request Management, and a CMDB. If a customer sells technical products and services but does not have the service management systems in place to support them, this is the perfect time to implement ITSM. The adoption of dedicated processes for this purpose will improve the customer service process significantly.
ITSM can handle the processes of resolving technical issues, but it lacks the ability to manage client accounts and deliver customised support packages.
Conclusion
By using Service Management practises, customer service firms can evolve. When Case Management is combined with Incident, Problem, Change, and Request Management, service delivery is streamlined, operational efficiency is improved, and customer satisfaction is increased.
To Discover more: Read our Blogs: https://aelumconsulting.com/popular-blogs/
For ServiceNow consulting and implementation, Visit Our Website & Connect With Best ServiceNow Experts: https://aelumconsulting.com/servicenow/
Thanks For Reading
Read More on Aelum Blogs
Author: Rati Kumari Jha
Designation: Technical Content Writer