Business challenges
How do you manage capital and operational costs, if you don't know what you have? How do you secure your organization if you aren't sure what assets are where? How do you know if you're out of compliance? Are you willing to wait for a government official or big-name vendor to tell you? That could be a costly conversation if it comes attached to a massive fine. In this blog, we will be discussing how you can manage these issues effectively with IT Asset management.  
Wasted Spending
Recognizing that a part of present spending is likely going to waste is by far one of the most painful aspects of gaining full control over ITAM. It may be necessary to pay for ITAM software or subscriptions that are no longer in use. Based on actual usage and consumption history, it may mean purchasing more licenses or subscription seats than are actually required. In either case, the result is excessive spending on idle assets that provide little return on investment.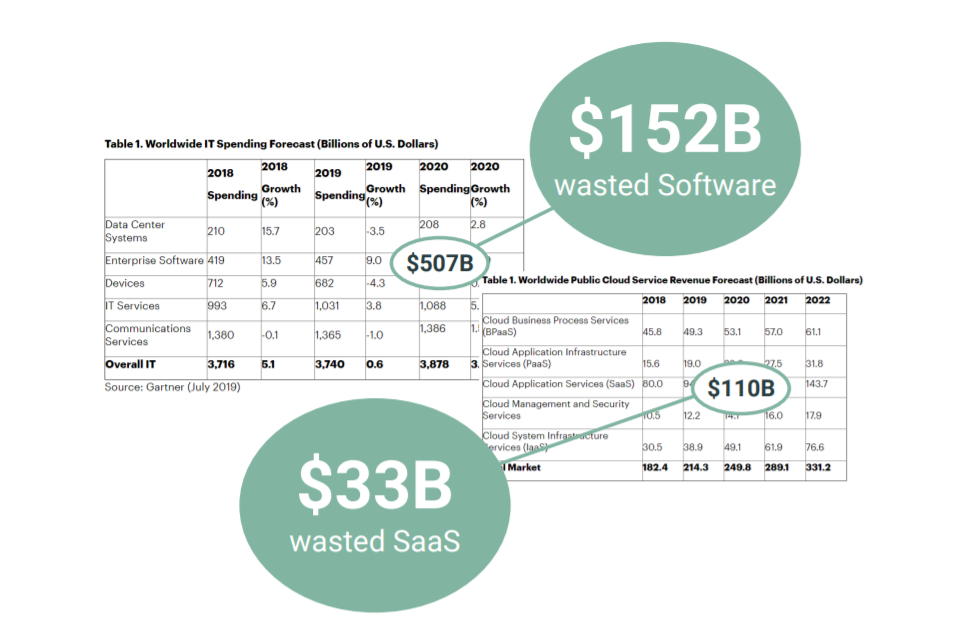 Unnecessary and Avoidable Risk  
The failure to pay or get licenses or subscriptions required to lawfully use specified software or services is the other side of overspending. Overuse of a license can be caused by a variety of factors, including:
Admins who deploy software without first learning the license terms, which vary by publisher and can be fairly complicated.
Using virtual machines or containers to deploy licenses without first comprehending (and then applying) license rules.
Increasing the processing capability of devices without affecting license.
Costs Are Opaque and Unpredictable
Licenses and contracts come and go on a regular basis, each with its own set of terms and restrictions. Vendor or service provider bills arrive at irregular and unpredictable intervals if they are not handled. Cost increases, changes in usage terms or costs, or variations in consumption levels make it difficult to analyze and consolidate expenditures.      
Proposed Solution
The solution for all these challenges will be the use of ServiceNow IT Asset management effectively. 
What is  IT Asset Management?
ITAM is best understood as a set of business practices built around record-keeping (and maintenance). It combines and deals with contractual functions, discovery and inventory, and financial activities. On one hand, IT Asset Management software seeks to accommodate and represent all the various contracts for licenses, subscriptions, and services (such as SaaS applications) within an organization in a coherent and consistent way.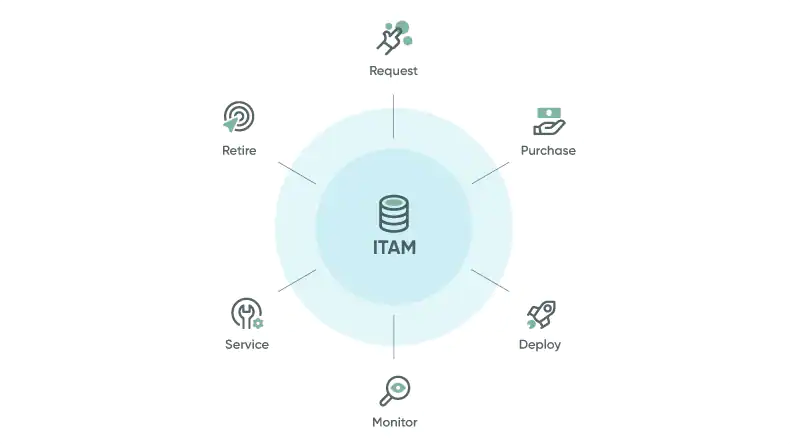 On the other hand, ServiceNow ITAM also looks out onto an organization's networks to sniff out, discover, and compile as complete a list as possible of what IT assets it actually sees in use, along with who's using them, what for, how long, and so forth. Finally, IT Asset Management software also tracks financial activities around those assets—including costs of acquisition, licensing, upgrades, maintenance, and so on. Simply by assembling, combining, and correlating these three bodies of data, ITAM helps to create a current and consistent record of IT assets within an organization.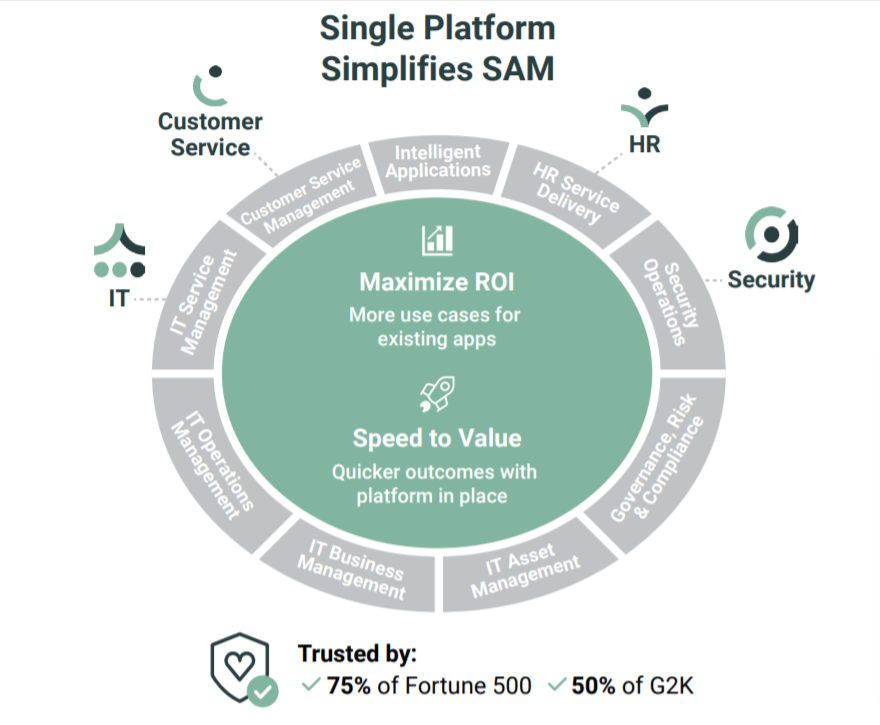 Software asset management (SAM)—best understood as part of the overall IT Asset Management  software practice—works best when all its elements come together under a single software umbrella. Such a platform handles record-keeping and interfaces with multiple organizational units and departments.
Why do customers choose ServiceNow SAM?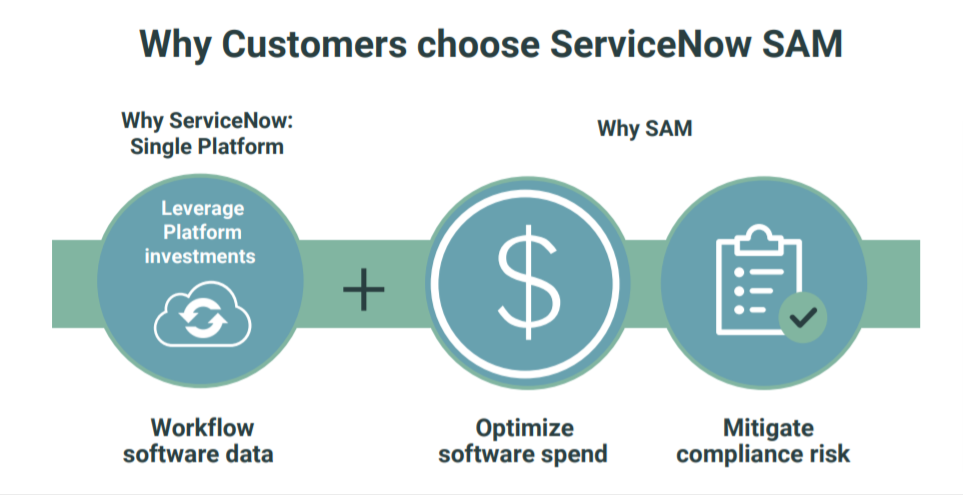 ServiceNow SAM can automatically distribute key data from the CMDB. This becomes your single source of truth, a valuable asset for decision-making that can be shared across the enterprise. An investment in ServiceNow SAM means you have one central source, a single architecture solution, that can deliver crucial software data to the business via digital workflows. Improved asset control also means you're in a better position to derive value from those investments. Even SaaS can be monitored and optimized through ServiceNow SAM. The bottom line is that ServiceNow SAM can help an organization pare back spending while optimizing usage with right-sized purchases. These real savings occur for on-premises and cloud-based services, too.
Introducing the CMDB
The configuration management database (CMDB) is an important source of information about an organization's systems, and it supports critical IT service management functions such as problem management and change management. The CMDB helps IT resolve issues more effectively by answering the proverbial first question in troubleshooting: "What was the last thing you changed?"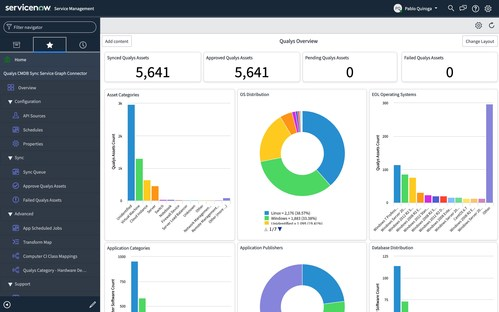 What does ITAM do for the business?
Compounding Cost Savings 
ITAM can assist firms in reducing waste and overspending by removing excess, unused, or unwanted assets from their asset inventory.
ITAM can also help with:
Maximize the useful life of individual IT hardware assets by helping to identify when preventive maintenance is needed, and keep records of completed preventive and corrective maintenance
Keep track of service and support contracts for important hardware assets to ensure they don't expire.
To assist businesses in planning and budgeting for hardware replacement, keep track of EOL and EOS dates.
Identify any unused hardware, such as new inventory, parts and spares, pooled equipment, and unallocated resources, that could be assigned or deployed.
Simplifying ITSM 
ITAM automates and simplifies ServiceNow ITSM. ITAM can help IT deliver a superior service management experience for your users when they need it most. By automatically pre-populating the ITSM portal or service desk dashboard with asset and user information, users and support staff can focus on describing and resolving the actual incident or problem. Anything you can do to make it easier to create a service desk ticket and get to a resolution quicker will help your users stay productive and reduce frustration.
Minimizing Risk
ITAM assists firms in a variety of ways to reduce risk. One of the more obvious areas where ITAM may assist firms in risk management is software license compliance. Managing financial risk, in particular, due to non-compliance penalties, hold-up buying ("true-up" or else—list price, no discounts), and overspending, are all closely related (unused entitlements). 
Software Spend Detection 
Software spend detection can help you spot inefficient "shadow IT" purchases ("Why is marketing paying more for project management software that operations use?"). can unearth overlapping software capabilities in many applications ("Why do we have five different file sharing apps and three different project management tools?"). There are indirect cost savings, such as increasing interoperability and productivity across teams, workgroups, departments, and business units.
Conclusion
IT Asset Management isn't an afterthought in IT; it's at the heart of your business. You're essentially flying blind without good ITAM, not knowing if you're losing money or putting the business at risk due to security or compliance problems. And flying blind will almost always result in a crash. It doesn't have to be that way, though. With adequate ITAM in place, you can rest assured that you're tracking every piece of hardware and software in your business and that you'll be able to present whatever is required when the auditors arrive. You have perfect 20/20 insight into the IT assets that keep your organization running every day, rather than flying blind.  
Thanks For Reading
Read More on Aelum Blogs
Author: Rati Kumari Jha
Designation: Technical Content Writer