IT Operations Challenges
 Are you worried about your traditional IT operations practices? The demand for IT operations to supply resilient and secure services is growing at an exponential rate, as is the pace of digital change. When problems arise, traditional IT practices are frequently reactive. If you don't have proactive digital operations, your digital services will most likely fail.
Because most problems are discovered after the fact, the traditional break-fix methodology no longer works for digital IT operations. Because of their dynamic nature, cloud and DevOps increase management complexity. IT and security operations are locked in a reactive posture without the right tools. Manually identifying issues and tying events or vulnerabilities to problems is inefficient and error-prone. The potential for success is hampered by too many day-to-day operations noise and a lack of business service visibility.
Solution: ServiceNow IT Operations Management
IT has complete control over resources, both on-premises and in the cloud, with ServiceNow IT operations management. IT teams may perform proactive operations with extensive AIOps capabilities built natively on the Now Platform. ServiceNow ITOM, Security Operations, and DevOps enable you to go from reactive and responsive to intelligent and proactive self-healing IT maturity. With the power of AIOps and machine learning, you can break down silos, decrease friction, improve process automation, and enable continuous improvement.   
What is ServiceNow IT Operations Management?
ServiceNow IT Operations Management (ITOM) enables the continuous monitoring of all aspects of an organization's IT infrastructure, including individual apps, services, storage, networking, and connectivity. ITOM's presence aids in the improvement of corporate processes and services' availability, proficiency, and performance. 
ITOM Visibility
ServiceNow Discovery, ServiceNow Service Mapping, Certificate Inventory and Management, Service Graph Connectors, Multisource CMDB, and Firewall Audits and Reporting are all part of the ServiceNow IT Operations management Visibility solution. Discovery and Service Mapping provides a unified, integrated view of your whole IT network as well as the services it supports. ITOM Visibility allows IT departments of corporations and platforms as service providers to find their IT resources.

Discovery
The Discovery capability allows you to identify the enterprise IT infrastructure in a repeatable and reliable manner. Computers, servers, software, printers, routers, and switches can all be found with Discovery. It can also locate IP-enabled devices and the apps that operate on them, as well as cloud resources and TLS certificates from multiple cloud providers. Horizontal discovery is the name given to this procedure. Horizontal discovery does not contain connections between devices and apps. Scripts can be used by Discovery to collect and process data on a host before updating the CMDB. Probes are scripts that examine or investigate CIs on your network. The programs that parse the data supplied from the probes are known as sensors. Discovery also employs discovery patterns.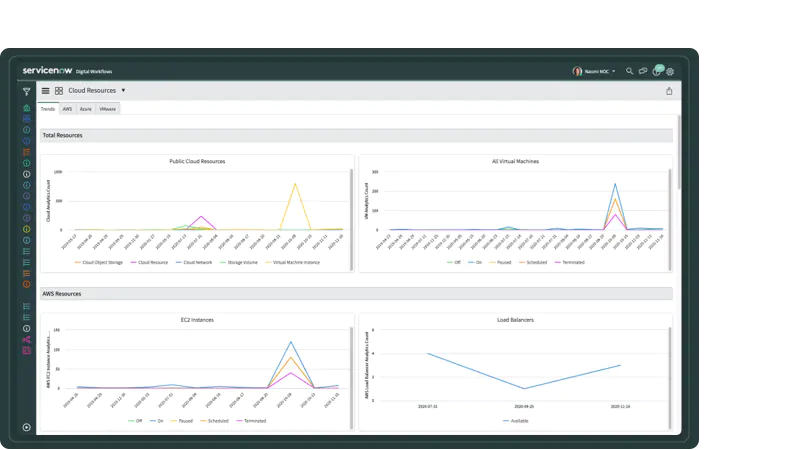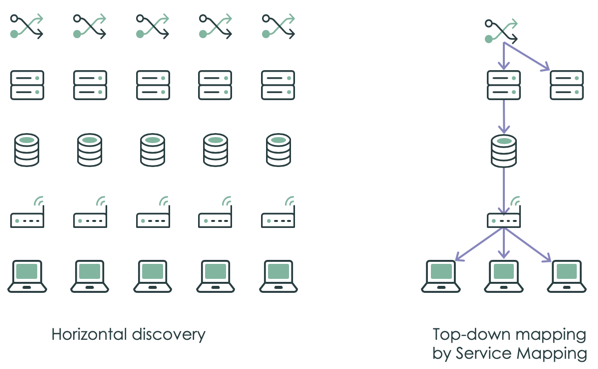 Service Mapping
In ServiceNow IT Operations management based on a connection between devices and applications, the Service Mapping functionality maps dependencies. Top-down mapping is the name given to this procedure. The top-down mapping allows you to see how a malfunctioning object affects the rest of the application service operation right away. Application service maps depict infrastructure items and their semantic relationships. To maintain application service maps current and relevant,  Service Mapping regenerates them on a regular basis. Any defective objects are displayed with the devices and applications they affect, giving a visual representation of the application service's current state.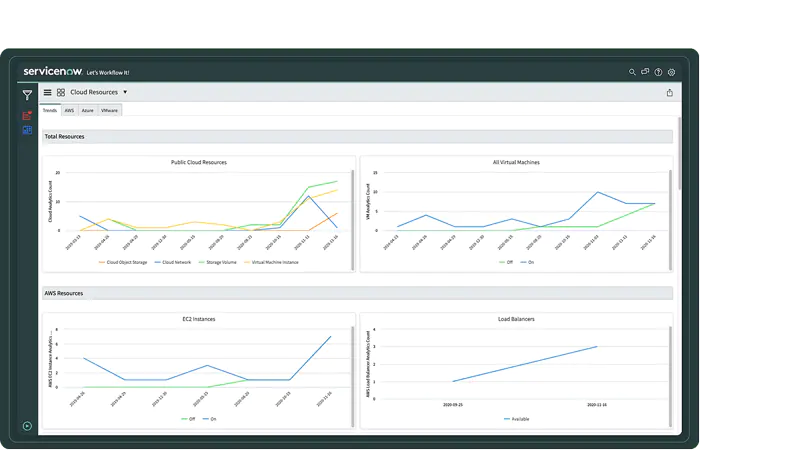 CMDB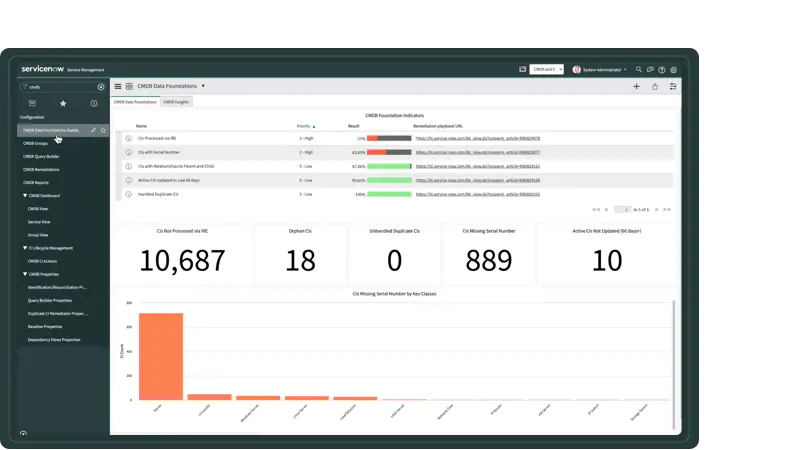 Your ServiceNow Configuration Management Database (CMDB) contains vital data about your digital services and the infrastructure that supports them. It supports important operational operations, such as predicting, preventing, and resolving service disruptions, reducing change risk, and responding rapidly to end-users. Your CMDB will become even more mission crucial as it grows into ServiceNow Service Graph, ServiceNow's next-generation system of record. Service Graph extends beyond operations into areas like planning, application development, deployment, cost optimization, and more, thanks to the ServiceNow Common Service Data Model (CSDM), which creates a broad and deep database that lets you manage the whole digital service lifecycle. 
Service Graph Connectors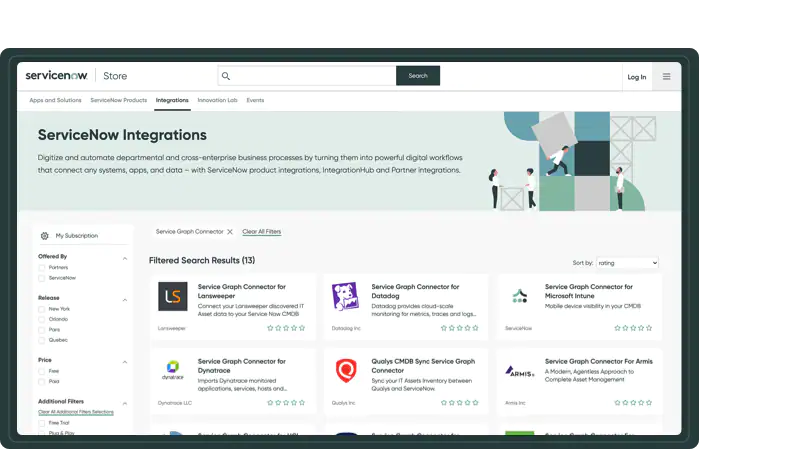 ServiceNow Service Graph Connectors are third-party data integrations for Service Graph that are certified by ServiceNow. Service Graph Connectors make it simple to import huge amounts of data from third parties into your CMDB, assuring data quality, timeliness, and consistency. Service Graph Connectors also ensure that third-party data is linked to the correct CMDB locations. In addition, allowing ServiceNow apps to access the data immediately away and improving reporting accuracy.
For managing the end-to-end lifecycle of digital products and services, Service Graph provides a broad and deep data basis. The ServiceNow Common Service Data Model, an extension of the ServiceNow CMDB, expands coverage into planning, application development, deployment, performance, cost, business processes, and other areas.
ITOM Health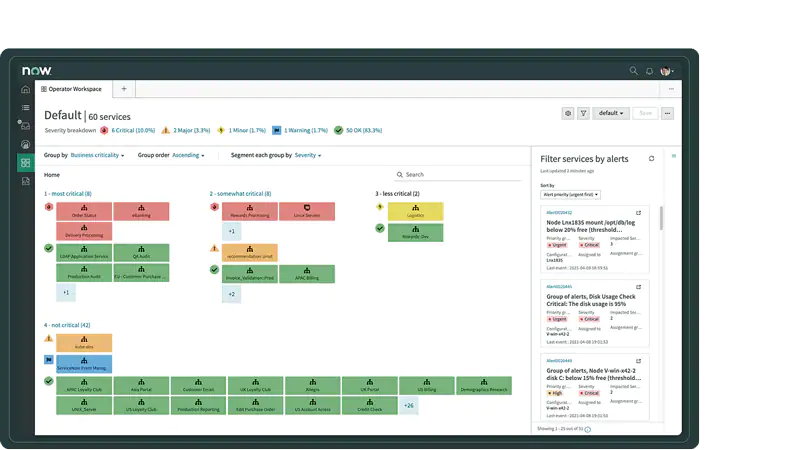 The ServiceNow Event Management and ServiceNow Health Log Analytics tools will let you track and maintain the health of your organization's services. ITOM Health is improved and updated in the San Diego release. You can purchase ITOM Health separately or as part of a larger package called ITOM Predictive AIOps. It comprises ITOM Health and Health Log Analytics.
Conclusion
IT Operations Management (ITOM) from ServiceNow helps you to streamline workflows on multi-operating systems and it also accelerates IT process delivery across platforms. However, you may also reduce the complexity of IT operations by implementing cross-platform. Above all, cross-operating system coverage across your whole enterprise, as well as eliminate hazards.
Thanks For Reading
Read More on Aelum Blogs
Author: Rati Kumari Jha
Designation: Technical Content Writer