For firms seeking to digitally change their businesses, the top priority is providing an amazing customer service experience that wins the hearts and minds of customers. Businesses are feeling the need to improve the customer experience and invest in technologies to shorten the path to this destination as today's customers wield more and more influence.
Customer Service Experience 
A focus on customer experience expands the traditional definition of customer service to encompass every aspect of a company's offerings. It entails energizing staff and recognizing excellent service as a valuable asset. As a result, the gap is growing between companies committed to shifting their customer service experience into high gear and those stuck in neutral, still deciding, how and when to make their move.
Roadblocks to Success for Customer Service Departments
Customer service has always been viewed as a cost center, thus its systems and processes have not been prioritized for technological investment or business process automation. As a result, there is a separation between customer service and the rest of the company. When it comes to resolving complex issues, the separation becomes a problem, as data reveals that typical customer support issues typically include more than four departments. A typical scenario begins with traversing a complicated phone tree before ultimately pressing zero to reach an agent out of irritation. Customers may be passed from department to department without ever having their problem fixed. According to a survey by Customer Care Measurement and Consulting, 66% of consumers who experienced problems with products or services reported feeling enraged, and only 17% of those customers were satisfied with the action taken to fix their most serious issues. 
For today's service-oriented businesses, these perils on the path to a successful customer journey necessitate a drastic shift of direction.
New Roadmap for the successful customer journey
Customers' time is valuable, and providing an amazing, personalized customer experience is a vital distinction in today's competitive economy. Companies are realizing that a better customer service experience not only results in happier consumers but also has a direct influence on the bottom line. 
Dedication to improving customer experience necessitates directing all department's efforts toward increasing the comfort and speed of the customer's trip, as well as hyper-personalizing it for each individual. Potential roadblocks must not only be overcome quickly and smoothly but must also be foreseen and avoided. 
How can you synchronize efforts across your organization to make sure each and every customer journey is a smooth one?  
Moving Beyond CRM
Customer service in the modern-day necessitates a more holistic approach than currently enabled by typical customer relationship management (CRM) solutions. CRM systems are particularly good at tracking how a business interacts with or reacts to, customers when they have a problem or inquire about a product. A modern customer service approach focuses on service engagement, operations, and delivery, rather than just managing contacts and tracking problems. This produces a smooth journey for your consumers.
New approaches to customer service are designed to manage service delivery as an end-to-end, closed-loop system driving operational digitization through the following: Where CRM fails to support a company in addressing the demand for connected, continuous experiences, new approaches to customer service are designed to manage service delivery as an end-to-end, closed-loop system driving operational digitization through the following:
Recognizing and customizing the customer experience
Concentrating on getting things done
Routine solutions that are automated
Establishing connections
Connected Collaboration
For resolving the fundamental cause of complicated customer issues, connecting customer service with other aspects of the organization is crucial. According to the research, 83 percent of contact center executives believe that cross-organization collaboration is critical to achieving long-term solutions. Many customer service firms are making progress in this area, but they continue to rely on antiquated technologies. In reality, email and telephone are still the most popular technologies for these types of interactions in contact centers today. 
Customer support issues can now be assigned directly to other departments, such as field service, engineering, finance, and others, and tracked as they progress toward resolution. Prospective buyers will not suffer the same issue if the fundamental cause of a customer issue is addressed, and the overall customer experience will be improved.
Effortless service
The ability to provide seamless service is a vital indicator that a customer's time is valuable. Customers can participate in the channel of their choice and receive responses as promptly as possible with effortless service. This entails providing robust, tailored self-service and automating processes with artificial intelligence. Artificial intelligence advancements are proving to be beneficial in boosting client interactions. Chatbots are being used by customer support systems to speed up client interactions, route cases, and recommend the next best actions. These technologies improve service quality and give quick, automated responses to typical consumer problems.
The ServiceNow Customer Service Management Solution
To provide a seamless, closed-loop customer experience, ServiceNow Customer Service Management unifies customer engagement, service operations, and delivery. Customers receive a personalized experience thanks to Omni-channel case management with machine learning, which automatically routes cases to the most competent agents and aids agents in resolving issues more quickly.
Customer Service Management provides self-service options as well as a customer service portal. It drives actions to rapidly take care of frequent client requests, thanks to virtual agents, knowledge management, online communities, and automated solutions.
With streamlined processes meant to assist agents give answers faster, it increases the agent experience and efficiency.

Customer Service Management adopts a "team sport" philosophy, allowing employees to delegate responsibilities to other departments. Tasks can be assigned to the appropriate department and followed through to completion to guarantee responsibility and closure using Customer Service Management. Rather than repeating the same call, email, or chat, this operational digitizing assists in resolving the core cause of a difficult issue. Problems are resolved indefinitely. Future incidents will be avoided, and other customers' experiences will be enhanced.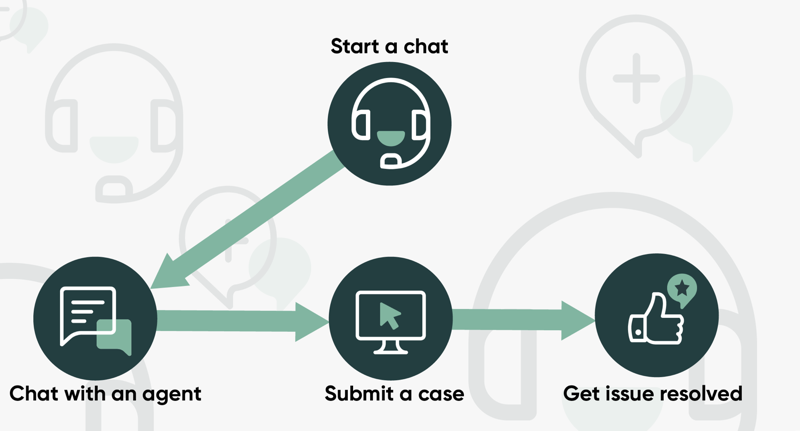 Customer service management can also help with the transition from reactive to proactive support. Monitoring the health of a customer's product or service provides the data necessary to intelligently resolve issues before they become apparent to the customer. on service quality trends.
ServiceNow Customer Service Management can help you create a smooth customer journey no matter where you are on the path to digital transformation and you'll get there faster, more reliably, and with a proven return on investment. From standard client engagement to an amazing customer experience, Customer Service Management will lead you there. 
Thanks For Reading
Read More on Aelum Blogs
Author: Rati Kumari Jha
Designation: Technical Content Writer